A proposal to help thousands of turtles, frogs and other animals safely cross U.S. 27 North is one step closer to reality.
Members of the agency that plans transportation projects for Leon, Gadsden and Wakulla counties accepted a Lake Jackson Ecopassage study on Monday. That opens the way for bids on the passage's design to go out, perhaps as early as next month.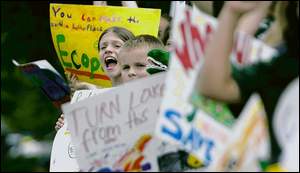 Mark Wallheiser, Democrat Photos.

"We're really hopeful that once the design is completed, we can begin construction," said Matt Aresco, a former Florida State biology student who first saw a need to help animals cross North Monroe Street in 2000. "But it really depends on where we get the money."

Hundreds of animals are killed every year trying to cross the highway, which splits Lake Jackson in two. And they're also a danger to motorists, who often stop along the road to help wildlife or can be hit with animals-turned-projectiles.

"It has been documented that some of them have actually gone through windshields," said Jon Sewell, the project manager with the engineering and planning consulting firm Kimley-Horn and Associates Inc.

The study presented by Sewell on Monday calls for replacing a metal pipe that goes under US 27 with a concrete culvert, adding three more culverts and building walls along the highway to guide animals to the culverts and stop them from crossing the road anywhere.

Aresco, who is now the conservation director for the Nokuse Plantation in Walton County, first saw the need to help wildlife cross the road seven years ago, and for years lobbied local governments for funds. He and other volunteers also put up fences along the highway that they regularly maintain.

Sewell said construction would cost about $4.5 million. It would take a few months, he said, once the design is over. If funds - most likely federal dollars - can be found quickly, the passage could be a reality by 2009, he said.

In the meantime, a counter on the Lake Jackson Ecopassage Alliance's Web site, www.lakejacksonturtles.org, counts the time since the problem was first identified - 2526 days, 19 hours and 35 minutes ago as of last night.